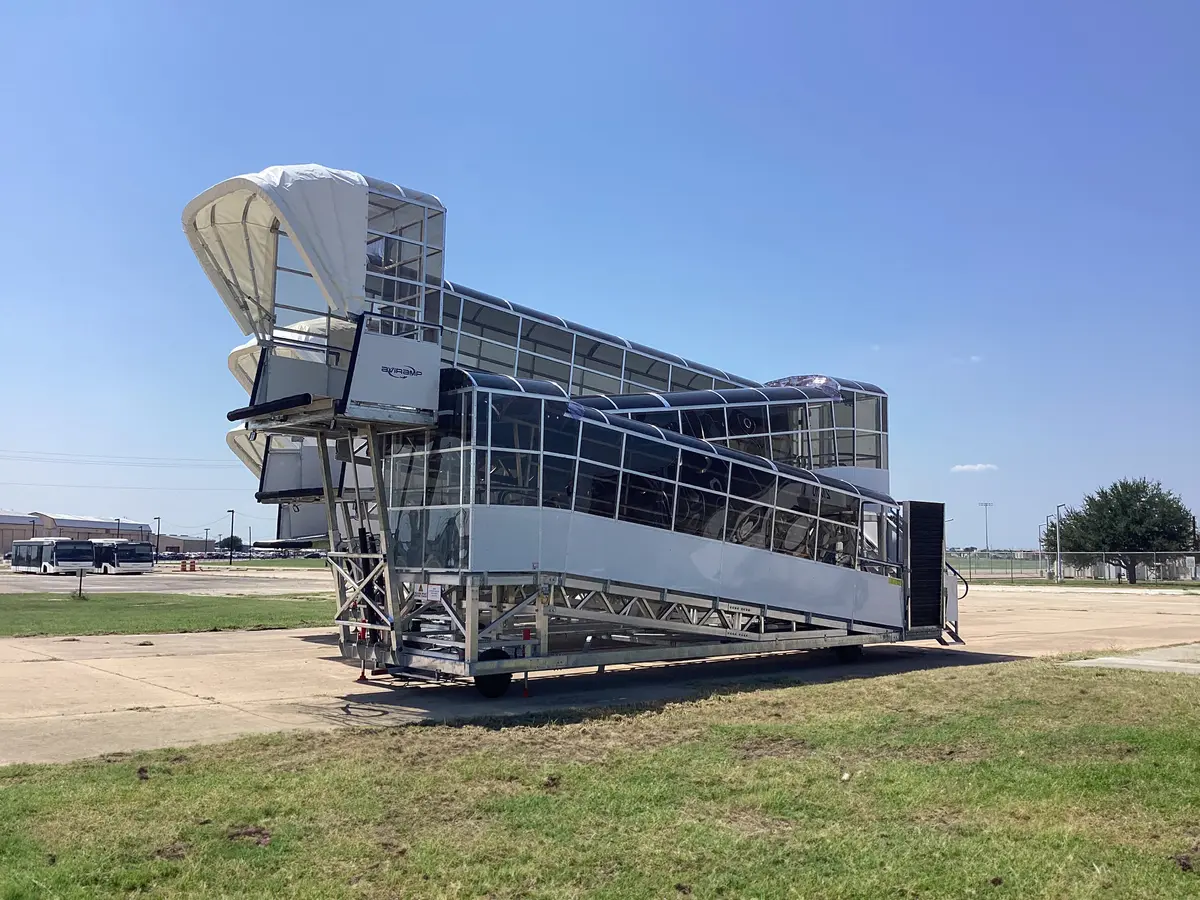 In the ever-evolving aviation landscape, GSE innovations that enhance efficiency, safety, and passenger experience are always sure to receive a positive reception. The new Aviramp 913 Series step-free boarding ramps and bridges certainly go above and beyond expectations, and we are so pleased to be officially launching the new series at this year's International GSE Expo 2023 in Las Vegas. This exciting new series once again reinforces our commitment to pushing the boundaries in ground support equipment.


Here's a Sneak Peek at some of the key features and benefits:


Fully IATA AHM 913 compatible
The 913 Series follows the same innovative Aviramp designs but also offers enhanced safety, plus extra features that reduce turnaround times and improve customer experience. The new series is fully IATA AHM 913 compatible and offers an impressive 10-year structural warranty.


Enhanced passenger experience
As always with Aviramp, the 913 Series prioritises passenger comfort and convenience, especially for passengers with reduced mobility. The series offers shutdown sensor control access, which prevents movement, offering a greater level of safety and stability. Just like our other Aviramps, this series also has a 71-93 pendulum test value in wet and dry conditions, giving it an extremely low risk of slippage providing a secure and comfortable walkway to the aircraft.
Safety first

At Aviramp, the safety of our step-free boarding solutions is of huge importance. The 913 Series has a range of safety systems to keep boarding passengers and operators safe. For example, the automatic proximity detection system automatically reduces the speed from tortoise to snail mode when within 0.5m of the aircraft. It also includes an adjustable aircraft detection stop sensor and a touch sensitive bumper to stop the Aviramp as soon as it has the slightest contact with the aircraft fuselage. Additionally, audible safety alerts make it easy for ground support operators to be immediately aware of any safety issues. These are just some of the many safety measures available with the 913 Series.

Operational functions for simplicity and ease of use
One thing that we always pride ourselves on at Aviramp is our operational simplicity. We strive to give ground support staff the greatest amount of ease when operating our ramps, as this dramatically improves efficiency and turnaround time. The 913 Series offers a range of easy to use practical functions such as; a shoe sensor for door detection and protection, fully visually managed (signage) for ease of use and identification to all AHM 913 regulations. The system also has a range of audible alerts and visual warnings, such as warning lights to indicate snail mode and bumper contact.
The all-new 913 series is another exciting innovation from Aviramp, boasting many benefits and outstanding safety features, together with fantastic operational simplicity. CEO Graham Corfield recently commented, "This is another world first for us; the entire team has worked hard to implement as many requirements as possible of the IATA AHM Chapter 9."



GSE Expo Las Vegas
If you are visiting the GSE Expo in Las Vegas, why not come along and see the series launch - our experts will be available to offer advice or answer any questions you may have. Full compliance details are available on request - contact us for more information.


You can find out more about Aviramp and other Aviramp products here.