Aviramp GSE, an independent manufacturing business based in the UK, has designed and developed a suite of revolutionary ground support equipment specifically for the aviation industry.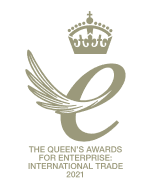 Winner of the 2021 Queen's Award for Enterprise; International Trade.

Our CEO Graham Corfield has worked with sector-led experts and specialists to introduce this pioneering suite of products that deliver for all key stakeholders: airports, airlines, ground handlers, PRM providers and passengers.
The brief was to challenge convention and develop equipment that would improve safety, drive operational efficiency and deliver an all inclusive step-free passenger experience. This brief has been fulfilled and exceeded given the stream of benefits.
Therefore, Aviramp GSE has delivered unique patented boarding ramps and remote stand walk-through mobile boarding bridges; to position the brand as the true market leader in loading and offloading, be it passengers or heavy EMAs.
DIGNIFIED BOARDING
Offers every passenger a safe, dignified boarding and disembarkation experience no matter what their age or ability.
FAST & EFFICIENT
Allows children, or parents carrying young children to access aircraft without the fear of falling down steep air-stairs.
VEHICLE ACTIVITY
Reduces multi vehicle activity around the aircraft minimising the chance of aircraft damage.
LOW MAINTENANCE
Offers the airport the opportunity to reduce its PRM costs, while promoting itself as disabled friendly.
IMPROVED SAFETY
Passengers can board and deplane safely without negotiating the steepness of air stairs.
BETTER EVACUATION
Fast on-stand emergency evacuation.
OPERATIONAL EFFICIENCY
Give's the airline a fast, efficient and cost effective turnaround without the reliance and the cost of Ambulift.
COST SAVINGS
Fundamentally, Aviramp enables the airport to offer all passengers and airlines the full benefit of jet bridge boarding, without the huge terminal infrastructure costs, alongside improved versatility of use.
Testimonials
The unit's simplicity, reliability, and dual purpose usability will surely force itself in the arena, I can see Aviramp throughout all airports in the MENA region quite soon, it really is a sound investment. Naser Farad Al Obaid | Engineering Director of National Aviation Services Kuwait

I can say easily that since introducing Aviramp here at NQY around a year and a half ago, that it has reduced the physical lift on's by around 80%, yes we still have to transfer the PRM from either the wheel chair to the seat or the smaller lift on chair to the A/C seat but this takes most of the effort away from the Ramp / ASO staff. Steve Delaney | Trainer and Compliance Controller at Newquay Airport

We have had good feedback from passengers, they have really helped passengers to take to remote stand operations here." Airlines, having been more than encouraging of Sea-Tac to find ways to improve customer service vis-à-vis remote stand operations, have also been happy with the results. Tim Toerber | Airline resource & scheduling manager
REQUEST FURTHER INFORMATION
For further details of our product range, please fill out an information request form.