Aviramp® is a suite of height adjustable remote stand boarding ramps and bridges supplied worldwide from our UK Headquarters.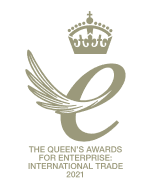 Winner of the 2021 Queen's Award for Enterprise; International Trade.

Aviramp® has supplied a unique range of patented remote stand boarding ramps and bridges since 2010.
Global Customers include Airlines, Airports and Ground Handlers who have all witnessed a revolution in passenger safety, turnaround efficiency and wheelchair user inclusivity.
All feature one person operation powered by either sustainable solar or small diesel engines driving hydraulics.
MANUFACTURED IN THE UK, QUALITY ASSURED IN THE UK
DIGNIFIED BOARDING
Offers every passenger a safe, dignified boarding and disembarkation experience no matter what their age or ability.
FAST & EFFICIENT
On Time Performance is significantly improved. Independent trials prove that Aviramp is 30% faster than alternative GSE.
TURNAROUND ACTIVITY
Aviramps reduce vehicle congestion during the turnaround process.
LOW MAINTENANCE
All Aviramps come with a 10 year structural warranty keeping general maintenance costs to a minimum
IMPROVED SAFETY
All passengers can board and deplane safely without negotiating the steepness of airstairs
USER FRIENDLY
Simple one person operation
OPERATIONAL EFFICIENCY
Give's the airline a fast, efficient and cost effective turnaround without the reliance and the cost of Ambulift.
COST SAVINGS
Aviramp enables airports to offer all passengers and airlines the full benefit of jet bridge boarding, without the huge terminal infrastructure costs, alongside improved versatility of use.
Testimonials
The unit's simplicity, reliability, and dual purpose usability will surely force itself in the arena, I can see Aviramp throughout all airports in the MENA region quite soon, it really is a sound investment. Naser Farad Al Obaid | Engineering Director of National Aviation Services Kuwait

I can say easily that since introducing Aviramp here at NQY around a year and a half ago, that it has reduced the physical lift on's by around 80%, yes we still have to transfer the PRM from either the wheel chair to the seat or the smaller lift on chair to the A/C seat but this takes most of the effort away from the Ramp / ASO staff. Steve Delaney | Trainer and Compliance Controller at Newquay Airport

We have had good feedback from passengers, they have really helped passengers to take to remote stand operations here." Airlines, having been more than encouraging of Sea-Tac to find ways to improve customer service vis-à-vis remote stand operations, have also been happy with the results. Tim Toerber | Airline resource & scheduling manager
REQUEST FURTHER INFORMATION
For further details of our product range, please fill out an information request form.