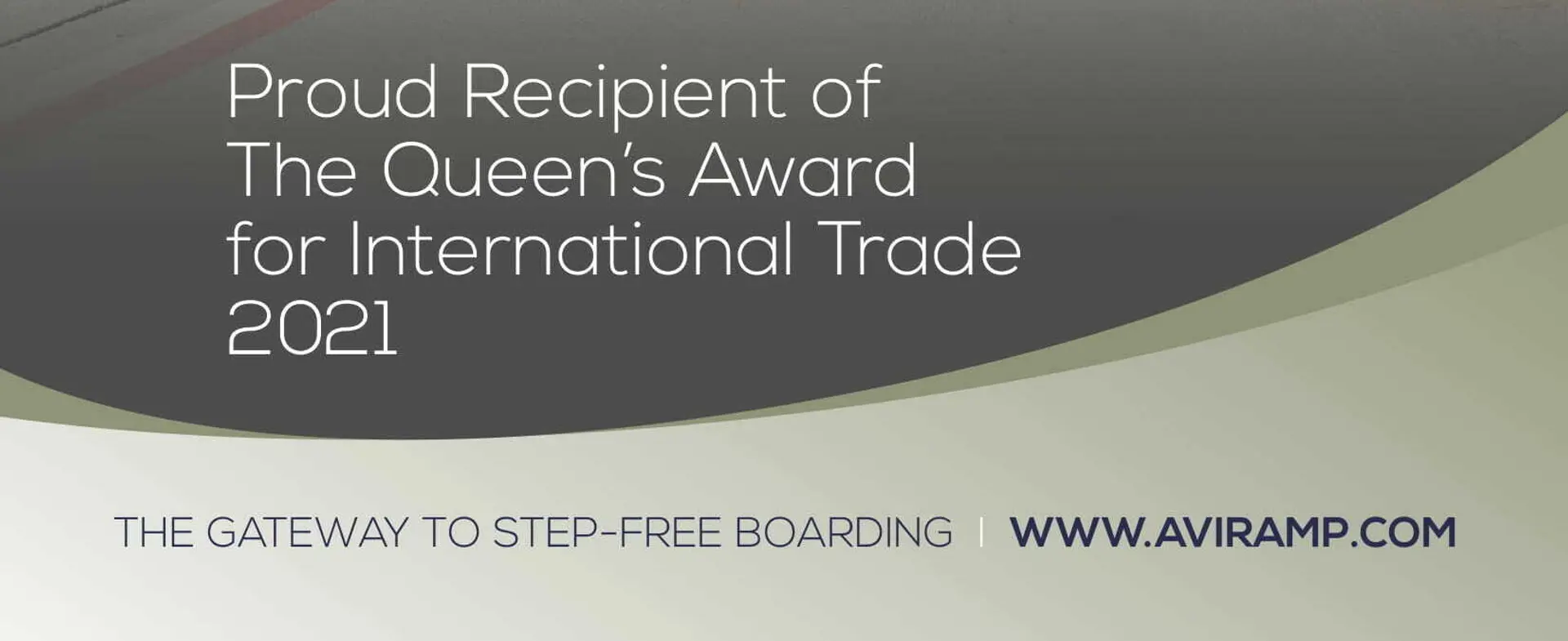 Telford-based ramp manufacturer Aviramp wins the Queen's Award for International Trade 2021.
From a drawing on the back of a beermat, to a fully operational aircraft passenger boarding ramp, Aviramp has revolutionised the aviation ground handling sector with its unique and patent protected product.
Despite tough beginnings, due to strict industry regulation and a general resistance for change, Aviramp's entrepreneurial CEO Graham Corfield designed, manufactured and 'risked it all' to launch a portable passenger aircraft boarding ramp. Aviramp is now widely used by airports and airlines throughout the world and boasts a suite of ramps to suit all commercial aircraft types.The idea for the Aviramp was born in a pub after Graham noted multiple passengers with Ski injuries attempting the climb up aircraft stairs at a Swiss airport, which in-turn delayed flights and caused chaos at the airport. Returning home Graham set about designing what is now 'the Aviramp' on the rear of a beermat in his local.
Despite having an already established access ramp manufacturing business, the building of a viable prototype for the aviation industry was a struggle. 'It was a simple idea as far as I was concerned, but a totally new concept in the Aviation world,' said Graham. 'The more I researched my passenger ramp idea, the more I realised that the industry didn't have a solution like anything I was offering', which was: 'a passenger boarding ramp that could be used safely by all passengers, regardless of their physical mobility, whether young or old'.
Having attended several trade shows in 2011 with his drawing, now larger and more detailed than the original beermat, the idea caught the eye of an international airline company, who offered advice and expertise to finesse the product into an aviation worthy standard. The industry was now becoming aware of the Aviramp and had begun to appreciate the benefits that this new innovative product could bring.
The Aviramp is used when an aircraft is parked on a stand not connected to the main terminal building. It delivers a raft of benefits for all stakeholders, including airports, airlines, ground handlers and in particular passengers. Wheelchair bound passengers can board together with friends and family rather than being separated and boarded by a type of commercial high-lift truck. The Aviramp enables passengers with reduced mobility to easily walk along the low gradient slopes.Children, and parents carrying children, can board in total safety without the fear of falling down steep stairs.All Aviramp are now available as fully solar powered units. This benefits the the environment by using natural sustainable energy as well as eliminating the use of diesel powered high-lift trucks, saving tonnes of carbon emissions on any airport's footprint.
Furthermore, all Aviramp's now have the option of being purchased with social distancing capabilities, to assist world in preventing the spread of viruses
With its rapid international export growth, Aviramp is fast becoming a global industry standard and is prevalent worldwide in the USA, South America, Australasia, the Far East, Africa, Europe and Scandinavia.
As Graham Corfield goes onto say regarding this huge honour; "We are so delighted on winning this prestigious award, it feels like a huge victory for the whole team, each of whom plays a vital role in the business, and all are passionate ambassadors of the brand. As domestic and international travel corridors begin reopening throughout the world, our primary objective is the continued growth of the business and to elevate the Aviramp brand as a global market leader within the aviation industry'.
Not bad for an idea initially sketched onto the back of a beer mat!