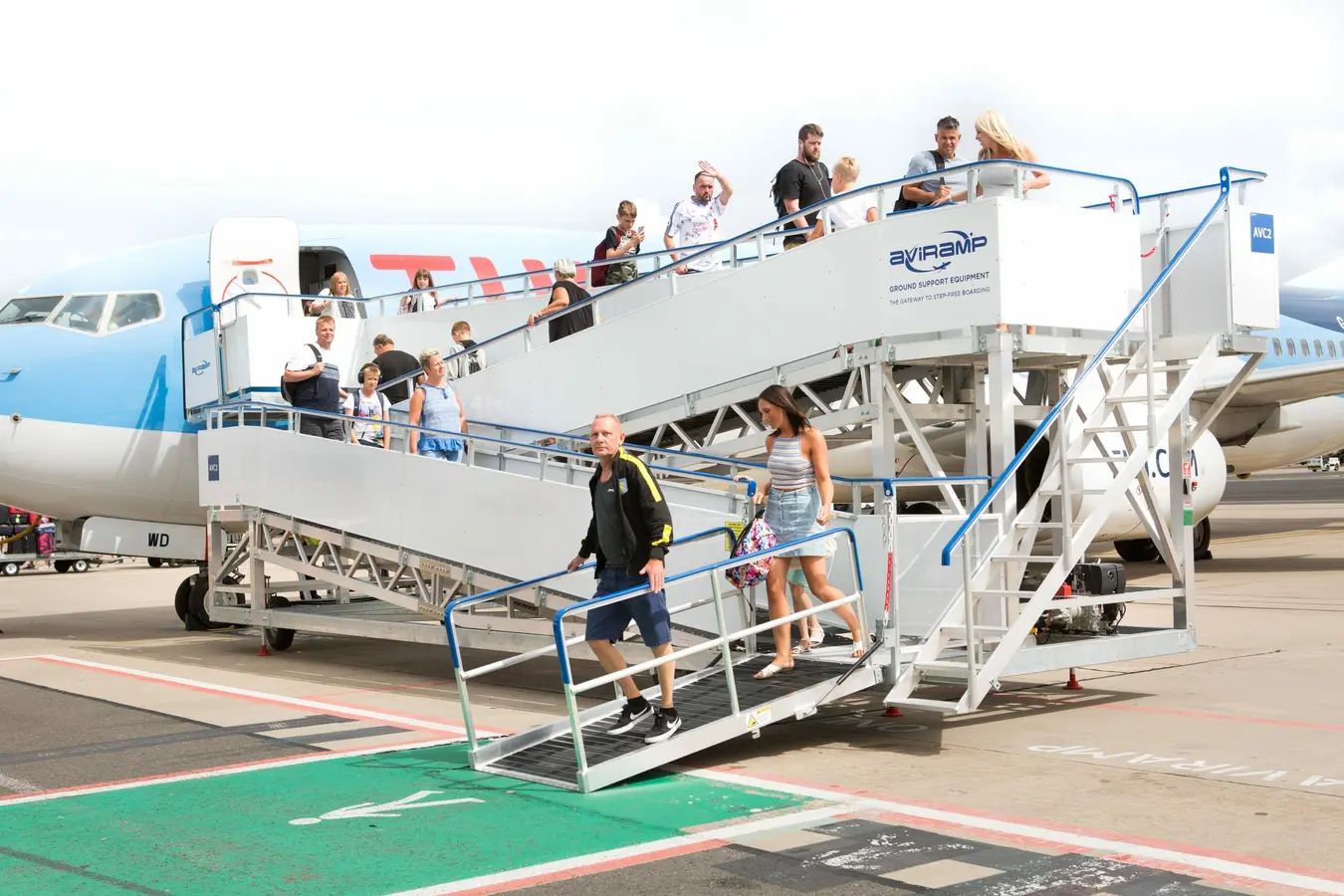 During this unforeseen 'downtime' due to the COVID -19 pandemic, it may be wise to review your ground handling operations. The reason being to ensure your services are slicker than ever before, whilst also evaluating the 'lost revenue' and how you can 'recoup that loss'. One easy way is to look at your ground support equipment and consider Aviramp as the cost effective alternative.
Aviramp will do the complete job for you – no need for steps, no need for ambulift. Aviramp literally does it all, by driving turnaround efficiencies, easing difficult capacity issues and delivering an all inclusive step-free experience.What is more, the cost savings are huge-which is timely-given the forced closures and absent revenues caused by this pandemic. Aviramp can replace expensive infrastructure needs, and adopt the role of both static quick fix jet bridge, as well as a versatile mobile boarding ramp. If that's not all, we produce Aviramp in diesel and solar to reinforce efficiencies. Our solar and electric versions are maintenance-free so no ongoing cost impact either. 
The Aviramp proposition is completely versatile and multi-faceted, with a raft of optional extras to customise standard units to suit specific operational needs and weather conditions. We manufacture all our products in- house and offer a great after sales service too. So we become an extension of your ground handling team, working with you to optimise your operations and keep costs minimal! 
This is a time to be well prepared, ready for the borders to open again and freedom of movement to be restored. An ideal time to review, and invest to implement a much more streamlined and robust operation by introducing Aviramp's low- maintenance ground support equipment! 
Just call now on +44 1952 2912 20 or email one of our experienced team on sales@aviramp.comPurchase and leasing options also available. Aviramp is the complete solution 
We are in this together and we will get through this together