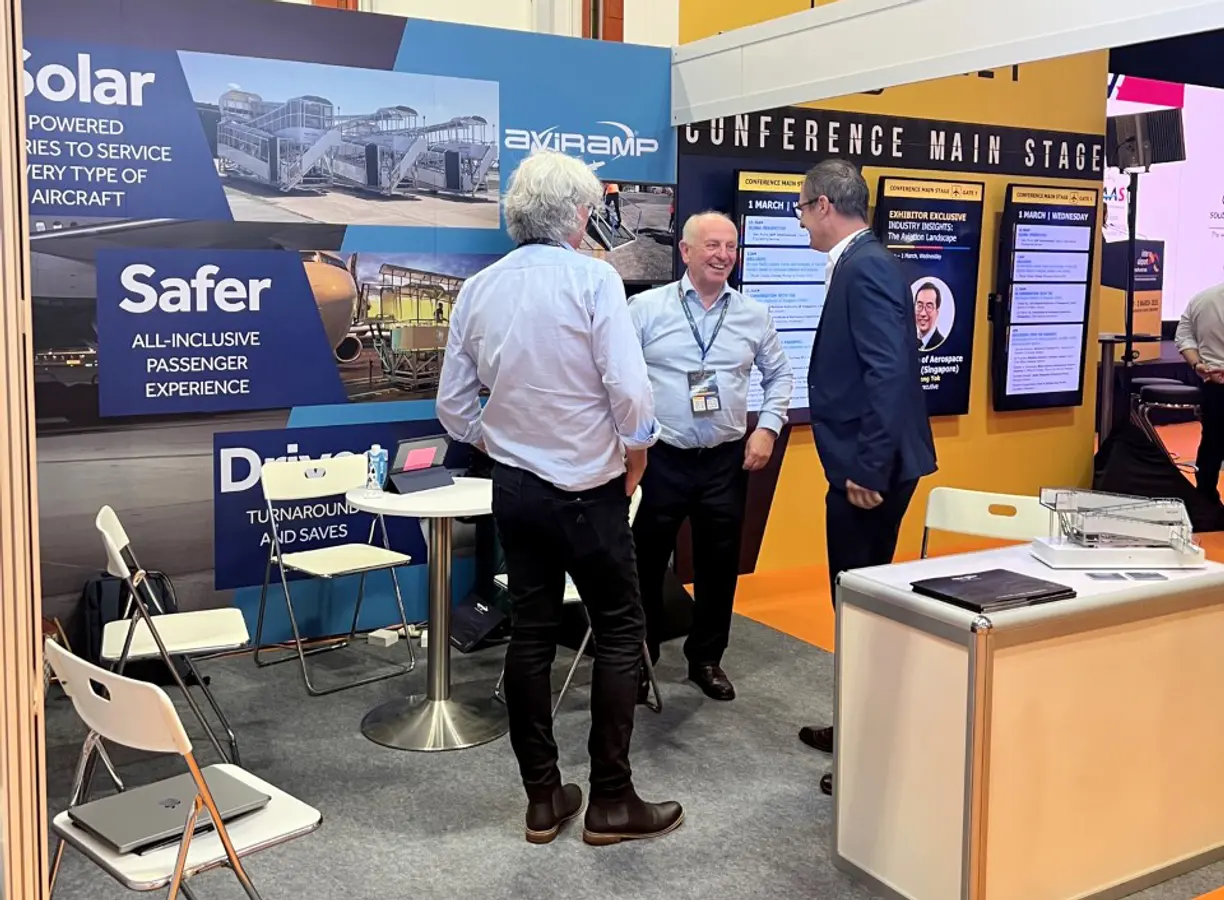 What a wonderful trip to Dubai and Singapore recently, meeting existing customers, potential new ones, and lots of influencers and champions of our brand and products.
After such a difficult lockdown period during the pandemic, with aviation being particularly hard hit, it was just really positive to see a full return to normality, at both the GHI Asia Conference in Dubai and IASEA in Singapore! Both events were set up very differently, yet both worked brilliantly for Aviramp!


The Asian GHI Conference in Dubai hit the mark with ground-breaking conversations and game-changing meetings
The GHI conference for Asia was held at the Meridian Hotel and Conference Centre, right in the heart of the business district. The core Aviramp team was in place here, by way of yours truly, the CEO, and internal sales Claire Lockham. In terms of our buyer meetings, we had some great pitches and discussions with airlines, airports and ground handling companies from all over the globe. We actually enjoyed some serious, amazing, breakthrough conversations, and potentially game-changing meetings, with senior, director-level representatives from Saudi Arabia, Abu Dhabi, Oman, Israel, Egypt, and other locations, such as Spain, Australia, France, Kenya and South Africa.  All were hugely proactive, where we got to discuss opportunities face-to-face, with multiple buyers and influencers over a busy 3-day period. We also had several important discussions with potential suppliers. So these conferences really do work on so many levels.

Moreover, we had a chance to network and socialise with some of our existing customers, to discuss our 'upsell' options for them, such as the solar retrofit, optional extras including our latest 'door canopy option' and our service-level agreements. These conversations served to reinforce our relationship with them as more than just suppliers, but as key partners, regarding other ground handling issues and various other types of collaborative initiatives, in marketing, media and PR! One of our agents based in KL, also attended the conference, simply to catch up with us in person, rather than by phone and teams. So it was a hugely successful melting pot of meetings, all extremely relevant to the business and our future plans.


Networking at its best
The GHI team on site there were extremely supportive, and they all work proactively to ensure we engage with the most relevant delegates. They stage speed networking opportunities and help to facilitate face-to-face introductions and meetings with any new prospects. They are generally great facilitators and enablers for their exhibitors. So all in all, this was a very good conference for Aviramp! And a big success no doubt for GHI!
Of course, we also enjoyed the excitement and social side that Dubai offers. Once the conference closed, we had an opportunity to enjoy a little downtime, before heading over to Singapore and the IASEA show!!


The IASEA Show in Singapore lived up to its reputation, it was brilliant from start to finish!
IASEA is a major show for the industry, that focuses purely on the Asian market, and it did not disappoint! Held in the iconic Marina Bay Sands Hotel and Convention Centre, the venue was absolutely perfect! Here we met with so many prestigious and important new business representatives from airports, airlines and ground handlers based in Singapore, China, Cambodia, Vietnam, Thailand, the Maldives, Saudi Arabia, Japan, Australia and New Zealand. It was literally non-stop activity for three whole days! Lots of talking, pitching, illustrating, and sharing, to culminate in some amazing leads and the confirmation of several orders! With Aviramp trials taking place at Singapore's Changi Airport, we were only too happy to confirm a pending order from them as well!! With a few more others to follow!!
We also had our agents from Hong Kong and Thailand visit us, with their delegations in tow. So it was a brilliant show for amplifying the brand and securing new interest, great leads and confirmation of orders. Again another great example of fitting into three days, what it would possibly take years to achieve. So often these meetings shortcut time, and allow all parties to move forward, in a much more streamlined way. It's multi-tasking at its busiest and most demanding, but really enjoyable too!!


Going that extra mile
Once more the IASEA organisers surpassed themselves, and I have to say that they were brilliant to deal with from start to finish. Always so considerate and attentive, the IASEA team really do go that extra mile for exhibitors. So we're already looking forward to the next one in 2025 (wherever that may be held)!
So many highlights from this show, including being accompanied by not only our CEO but our Australasia GM Michael Bannerman. We certainly made a winning team! We also got to socialise a little and explore the delights of what is a magical Singapore. So much to see and do culturally. We even spotted the Dalai Lama this year, with his understated entourage - it really was humbling to see such a great man in the flesh.


Where to next - AAAE Denver USA, IAEMA Las Vegas, and more….
With our 2-week work trip over, and a hugely successful conference and exhibition under our belts. We now look forward to progressing all these contacts. What is more, we have more events confirmed over the next few months, focussing on our target markets globally in places like:
Corsica for 3èmes Rencontres des Aéroports français & francophones d'Ajaccio – 2023.

95th AAAE in Denver USA.

GHI for the Americas market in Punta Cana in the Dominican Republic.

The Airport Show in Dubai.

Airside International's Conference in Seville.

IAEMA in Las Vegas.

The mighty Inter-Airport Europe

Plus two more GHI conferences in Africa and Lisbon.
Here we activated the brand within so many markets geographically, whilst proactively meeting future and existing customers, and pitching the Aviramp product, alongside all our other innovations and product customisation offerings.

These are both exhilarating and exciting, as they often lead to unexpected wins, whilst we gain invaluable intel from contacts there, which also leads us to direct sales. The industry can be very incestuous, and these events give us the scope to cover so much ground and add to our network of contacts, and sector insight, in a much more streamlined time period.


Scaling up Aviramp operations
Aviramp is now very much on an upward trajectory, in terms of scaling up operations, investing in its manufacturing and innovation, and winning fantastic orders from literally all over the world. With the manufacturing schedule filling up, and our installation teams prepared to fly the world implementing our products, Aviramp really does provide 'a gateway to the world', on so many different levels and ways. Not bad for a lean UK based manufacturing operation!!


For all sales enquiries contact sales@aviramp.com. For all media and exhibition enquiries please contact Terri.smart@aviramp.com (Global Sales & Marketing Director Aviramp Ltd)
You can also find out more about Aviramp here.