International
Mobile Boarding Bridge
Wide Body Aircraft
Delivering 'a world first' in aviation ground handling!
The International is unique in offering all the benefits associated with a terminal airbridge. It is a mobile passenger boarding bridge with greater functionality. It can be used to replace costly infastructure, alongside its primary role, as a portable boarding facility. The International services aircraft from the A380 lower deck, down to an A320 rear door, including the B787, 777, 757, A350, 340 and 320, it is both unique and versatile, with easy access.
Operated and controlled remotely, the handler can be positioned on the ground, whilst manoeuvring the equipment to and from the aircraft.
Compatibilty
| | |
| --- | --- |
| | International |
| A319 | |
| A320 | |
| A321 | |
| A330 | |
| A340 | |
| A350 | |
| A380 | (lower deck only) |
| B747 | (lower deck only) |
| B767 | |
| B777 | |
| B787 | |
FEATURES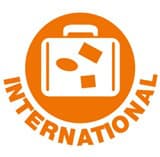 Portable pre-boarding facility, with the infrastructure of static bridges
Controlled remotely
Patented 360° design, with 7.5 to 8 degree gradient slopes
Operational height 3.4 metres (11'2") to 5.2 metres (17')
International footprint, just 90 cm (35″) longer than the Aviramp Continental
Renders other GSE redundant, and provides an easy step-free access for everyone, particularly PRMs
Unique anti-slip flooring; even in wet and icy conditions
Purchase and leasing options available
Aftersales care with full support helpline, warranty, maintenance and service plans
Full installation, assembly and training mandatory
There is a complete range of optional extras and accessories to customise the basic unit to suit operational and climatic requirements.
Transitioning to an option without stairs for our remote aircraft brought our busing operations onto similar standards for accessibility as is already present in the rest of our terminal. There isn't another product in the market that provides a nimble, motorized stairless boarding option, while minimizing ramp space footprint and standing up to harsh environmental conditions.

Tim Toerber| Airline Resource Manager, Seattle-Tacoma International Airport
Request Further Information
For further details of our product range, please fill out an information request form.
Information Request